Viva Cristo Rey!
A Memorial Endowment for Ruben Day
This past Mayfair, the Billings Catholic Schools posthumously awarded Ruben Day with the Legacy Award. We announced the establishment of a Ruben Day Memorial Endowment as well, with an opportunity to give to this endowment at a later time. That time has come!
Ruben Day passed into eternal life on December 3rd, 2020. Because his life was so "well-lived," Ruben received an enormous outpouring of memorials in his honor to an institution he loved, the Billings Catholic Schools.
During the early 1930's, Ruben's family immigrated from Mexico to Billings. Spanish was his first language. By the early 1940's, he attended McKinley Elementary School where he began to learn the English language. His closest friends attended Kate Fratt Memorial School, and he desperately wanted to be a part of that Catholic formation. However, his family could not afford the tuition.
At St. Patrick's Church where he attended mass, Ruben befriended the parish pastor, Fr. Richard Hopkins, who took him under his wing. Knowing his wish to attend a Catholic grade school, and his family's dire financial needs, Fr. Hopkins paid his tuition. The annual cost at that time? $25!
The formation Ruben received at Billings Catholic Schools was also life changing. It was there where he learned the values that informed his life: faith, family, and friendships.
During his life, he and his wife Nancy, would contribute to the advancement of Catholic education in extraordinary ways through the establishment of the Billings Area Catholic Education Trust (BACET – founding member), Mayfair, and the Search program. Beyond his church and the Ca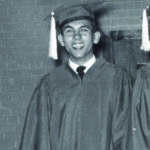 tholic schools, Ruben was an active Rotarian for decades, and served on numerous community boards. Perhaps best of all, he mentored younger professionals whose own careers blossomed under his wisdom and guidance.
Ruben's children; Mike, Jim, Cathy, and Joni; desire to honor him by establishing this endowed memorial scholarship for those who need assistance and have a deep yearning to attend the Catholic schools. In the same way Fr. Hopkins helped Ruben, his family would like to honor his distinguished legacy by establishing the Viva Cristo Rey Scholarship in memory of Ruben Day (translated – Long Live Christ the King!). This Spanish verse has a long Mexican heritage and held a deep meaning for Ruben; he asked for this phrase to be on his headstone. With this scholarship, Ruben now multiplies what he received from Billings Catholic Schools!
Because of the support already received, Ruben's endowed scholarship fund has reached $25,000 in donations. For those who have already given a memorial gift, thank you! For those who have not given or would like to give again, we are blessed by you to memorialize Ruben's legacy – to give back to an institution that gave him so much.
Billings Catholic Schools influences lives today in the same way it did for Ruben so many years ago. The world needs more heroes like him.