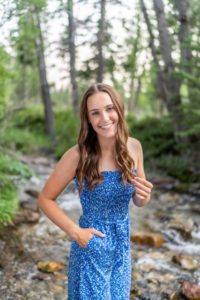 To be even be a candidate for a Lumen Christi (Latin for the Light of Christ) award is an honor for a Senior Billings Central student. To win the award is an lifetime accomplishment. The Lumen Christi award winners consistently demonstrate the example of Christ in service, leadership, generosity, compassion, and integrity. One male and female student are selected by Billings Central Catholic High School teachers, staff, and fellow students.
This year's female Lumen Christi winner: Mia Wohlgenant. The daughter of Dan and Michelle Wohlgenant (whose middle child, Brett, was a Lumen Christi winner), Mia's extensive list of academic and extracurricular accomplishments are incredible. To name a few; Mass Ministry, Varsity and Academic letters, All-State Cheer, Competitive Gymnastics, BC Student Ambassador, National Honor Society, Rotary Club Student of the Month, Breakfast Exchange Youth of the Year Nominee, Summa Cum Laude, and a Salutatorian.
Mia is a dedicated science student with plans to attend Montana Tech this fall. She is interested in pursuing an Exercise and Health Sciences degree to become a physical therapist. This particular interest was sparked by Mia's grandfather, who was seriously injured in a car accident her freshman year. His rehab process has been long. Because of this personal experience.
Mia credits her passion for the sciences to her teachers at BCCHS. As Mia said, "My chemistry teacher Dr. Pierson really influenced me to continue down a path in science. He has been my Chemistry teacher since sophomore year, and he has always encouraged me to continue working hard. He helped me develop an in-depth understanding of the sciences." In fact, Mia with several of her classmates persisted in their request and ultimately convinced Dr. Pierson to push back his planned retirement one more year until the class 2022 graduated!
As a faith-filled family, Mia's mom, Michelle says, "The focus on religion is what kept us enrolled at BCS. When my kids were younger, I was quite excited Central offered a Rome pilgrimage for students." Mia just returned from her Roman pilgrimage with her classmates, teachers, and BC alumnae Msgr. Dan Wathen and Fr. John Pankratz.
Congrats Mia, your BCS family looks forward to your exciting future!